---
Painting Aphrodite
11/10/2018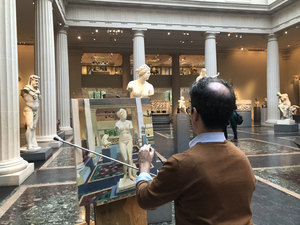 Aphrodite, the goddess of fertility and love, is my subject at the Metropolitan museum of art as I begin my second time as a copyist.
It certainly is wonderful to be in the Roman wing, with its silvery light on ancient statues, that make everything alive and vibrant. This program continues until the middle of December, making this past week my fourth session.
I have had some very interesting experiences as I answer many questions from the curious onlookers, who are not used to seeing a painter with an easel in that particular gallery. Some asked me if I was selling my painting to the Met, and others were more interested in my technique and materials. I also belive that so many pictures were taken of me that I must be on a hundred Instagram posts.
I look forward to my wednesdays at the museum, as I continue to work on my painting, not knowing what to expect.
More news to come soon!